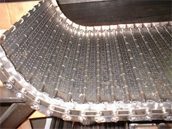 Steel belt systems are presently used for continuous industrial processes. These are commonly used in various industries such as chemical, food, wood processing, manufacturing, OEM, mining and transportation.
Steel belts are generally made from stainless or carbon steel. Stainless steel belts are corrosion resistant and provide exceptional surface quality and these are used mainly in the food, rubber, chemical, plastic, wood, and laminate industries. Carbon steel belts are energy efficient and best for applications that needs radiant heating of products or in high temperature applications. Carbon steel belts are used primarily in food processing, transport and bake ovens.
While steel belts offer promising results in various applications, there are quite a number of factors when considering steel belts for your needs. A few of them are discussed below.
Cost
Steel belts cost higher as compared to other materials, such as plastic belts. The cost however is compensated because steel belts are not petroleum-based material, making steel belt system per linear foot less expensive as compared to plastic belts. The overall advantage on low cost process using steel belts is one of the main factor why industries are considering steel belts in their continuous industrial needs.
Durability
Steel belts are highly durable material and can endure constant exposure to high temperature, hostile environments and even vacuum. A variety of alloys may be utilized, each with its own resistance to corrosion, chemicals and humidity.
Maintenance
In general, maintenance of steel belts is focused on the steel belt conveyor system. This includes resolving of belt tracking problems and changing or spare parts and consumables. Proper maintenance of steel belts and steel belt systems is vital to continued operation and longevity.
Ease of repair
With regular use, deformities with steel belts cannot be avoided. The curve parts of steel belts can normally be flattened and can be done without interrupting production. You might need to contact your local belt system supplier to assist as they usually offers a quick, onsite and cost-effective solution on repair of steel belts.
May Conveyor is a custom manufacturer of conveyor belting. We have pre-configured belts of various pitch & chain configurations for OEM & replacement applications as well as custom design capabilities. We provide belts for the metal working, recycling, machining, stamping, OEM, foundry, and mining industries.
Belting is what sets us apart from others as we make our dies in-house by the May Tool & Die Group. These precision components meet all automotive standards and is is how we have become known as a top quality supplier. Contact Us Today!