Beaded Apron Conveyor Belts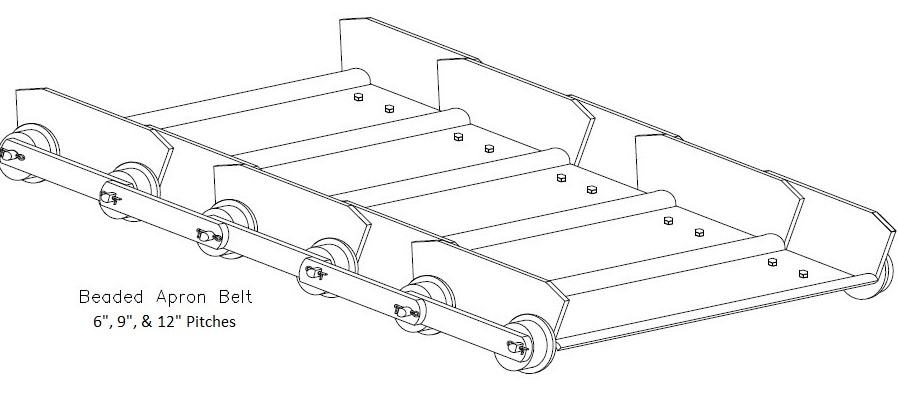 Applications
Made of overlapping steel pans mounted on SBR chains, apron pan conveyor belts feature cleaner discharge and more durable service.
The Beaded Apron Pan Conveyor Belts are engineered to absorb the impact of large lumps, repeated loading, and inclined conveying with minimum spillage.
Apron Pan Conveyors are good for heavy-duty applications, including a wide variety of materials, from hot and abrasive to fine and dry.
You will mostly see this conveyor belt used in the following industries:
What are the specifications?
Pitch – Beaded pan style conveyor belts are offered in 6″, 9″ and 12″ pitches.
Belt width range from 12″ wide to 120″ wide.
Thickness – Beaded Apron Pans thickness are available from 3/16 to 1/2.
Select a chain style from the Chain-Standard for 6″ or 9″ pitch.
Extra heavy-duty chain bars are available for ", 9″ and 12" pitches.
To minimize product spillage, we offer two types of systems. 
1) Interlocking offset wings leak proof welded to the Beaded Apron Pan, bolted to the chain attachments.
2) Extended inner chain bars with welded attachments to bolt to the Beaded Apron Pan.
Pin Locking Systems: cotter pin, lock nut, lock nut with lubrication
Modifications: angle cleats, impact pads. Any size, any spacing
Latest Industry News