Combination Conveyor Belts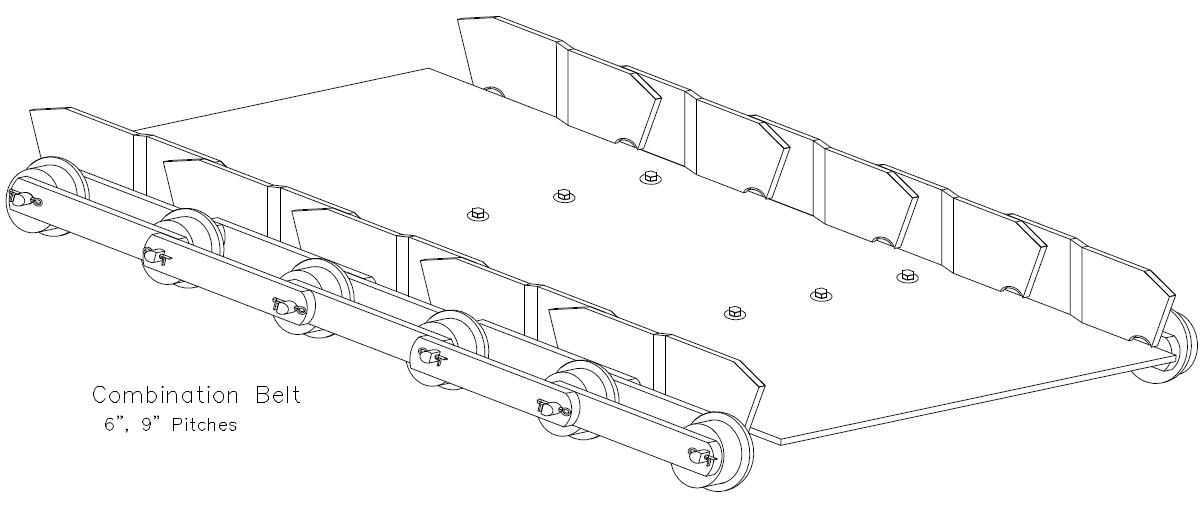 Applications?
Combination belting is a lighter weight replacement for steel hinged belting. Combination belts can be used in new conveying systems or as a replacement for steel belting, with minor or no modifications.
You can find this type of belting being used in the following industries:
What are the specifications?
6″ Combination Belt Configurations   
Belt –
– PVC
– Rubber
Chain – Select from our 6″ Pitch Chain – Standard
Wing – 4″ High x 1/4 Interlocking Offset Welded To Chain (Other Sizes Available)
Bar Wing – 4″ Overall Height Inner Chain Bars (3″ High from Center of Roller) Width is same as Chain Bar selected. (Other Sizes Available)
C-Channel –C-4 x 5.4# x Belt Width, every other pitch
Fasteners –
3/8-16 Hex Head Bolts and Nylon Locking Insert Nuts
Oversize Fender Washers on belt surface
Optional Elevator or Button Head Bolts
Modifications –
Angle Cleats
Impact Pads
Any Size, Any Spacing
9″ Combination Belt Configurations
Belt –
– PVC
– Rubber
Chain – Select from our 9″ Pitch Chain – Standard
Wing – 4″ High x 1/4 Interlocking Offset Wings Welded To Chain (Other Sizes Available)
Bar Wing –
4″ Over All Height Inner Chain Bars
(3″ High from Center of Roller)
Width is same as Chain Bar selected.
(Other Sizes Available)
C-Channel –C-6 x 8.2# x Belt Width, every other pitch
Fasteners –
1/2-13 Hex Head Bolts and Nylon Locking Insert Nuts
Oversize Fender Washers on belt surface
Optional Button Head Bolts
Modifications –
Belt Support Attachments
Every Other Pitch
Angle Cleats
Impact Pads
Any Size, Any Spacing
Latest Industry News